Inner City Grit Sound Clash Tour: Old School Dub VS Nu Skool Dubstep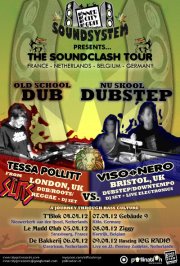 \Inner City Grit Soundsystem presents ….
THE SOUNDCLASH TOUR – APRIL 2012: A Journey through Bass Culture
Old School Dub VS Nu Skool Dubstep
Tessa Pollitt (The Slits) DJ Set (Dub/Roots/Reggae – London, UK)
Oldschool Dub, Roots and Reggae selected and rewound by Original Slits Bassist Tessa Pollitt, playing out rare, classic and old school conscious vibes for all you bass heads!
VS.
Viso<>Nero Live Electronics/DJ Set (Dubstep/Bass Culture/Dub- Bristol UK)
A DJ/Live Electronics Duo playing out the hottest Nu Skool Sounds; a journey through underground Dubstep, Downtempo and Bass Culture ft Live effects
Wednesday 4th April: T'Blok, Nieuwerkerk aan den, Ijssel, Netherlands
Thursday 5th April: Le Mudd Club, Strasbourg, France
Friday 6th April: De Bakkerij, Castricum, Netherlands (entree 3 euro)
Saturday 7th April: Gebaude 9, Koln, Germany
Sunday 8th April: Ziggy, Kortrijk, Belgium
Monday 9th April: Hosting ICG Radio! Live on J3, Omroep Zuidplas, Netherlands
————
Viso<>Nero and Tessa Pollitt have decided to come together and present a very special tour of Old School Bass VS New Skool Bazz.
These two dub heads played out together in July 2011 at Inner City Grit's; A Punky Reggae Tribute to Ari Up (of The Slits), an official one off tribute to the late Punk/Reggae singer and step daughter of John Lydon. The night was put together by Tessa, Viso<>Nero & ICG and included DJ sets and performances from Adrian Sherwood, Mark Stewart, Viv Albertine, Flash, Nora Forster (Ari's mum) and many more.
After this experience, drawing parallels, mutual interest and a shared love of 'Bass Music' original 'Slits' bassist Tessa Pollitt and Viso<>Nero were inspired to work together on a very special DJ/Live electronics tour for Europe, bringing the unity of the old school together with the new school, for a whole night of generational (bass) solidarity. This Soundclash will be playing out the best in old school, Dub/Roots/Reggae to Dubstep/Downtempo, OLD vs NEW.
————
Like us on Facebook:
https://www.facebook.com/InnerCityGritSoundsystem
Listen to preview mixes on Soundcloud:
http://soundcloud.com/tessapollitt/promo-dj-mix-reggae-dub-roots/
http://soundcloud.com/visonero/dub-vs-dubstep-bristol-mix/
Watch the Promo video:
Tessa Pollitt Biography
Tessa Pollitt, a musical veteran whose career started back in late 70's England,
Tessa came to prominence as the Bass player with the now legendary female Punk/Reggae band The Slits. The Slits music was revolutionary, totally smashing the limitations of the Punk scene from which they were spawned. The band quickly caught the attention of BBC DJ John Peel which gained them a famous 'peel session' on BBC radio, this alerted many major record companies who all demanded to sign the group immediately and after turning down many record deals the Slits finally decided to sign with Island Records. They shared the label with such iconic Reggae legends as Bob Marley, Jimmy Cliff and Toots and the Maytals so when they recorded and released their début album 'Cut' in 1979 it was natural to have Dub Reggae musician Dennis 'Blackbeard' Bovell (Jah Sufferer Soundsystem / Matumbi) produce their diverse sound. Fusing Punk, Dub reggae, and world music, Cut was followed by 'Return of the Giant Slits' on CBS, (1981). The Slits last album 'Trapped Animal' (2009) was produced by ONU Sounds Dub Guru, Adrian Sherwood. This modern line up also featured Hollie Cook on vocals and keys (daughter of Sex Pistol Paul Cook) who recently released her self-titled debut album produced by Prince Fatty. Over the years The Slits shared stages and tours with bands as diverse as The Clash, The Sex Pistols, Creation Rebel, Steel Pulse, Sonic Youth and jazz legend Don Cherry (to name a few).
After attending such historical soundsystems as Jah Shaka, Channel 1, Stereograph and Aba Shanti, reggae, roots and soundsystem had a massive influence on Tessa's playing, music, career and life and has given her the taste and knowledge of true old school dub, Roots, Reggae and Jamaican soundsystem culture.
Tessa will be digging the crates to select and rewind classic versions and rarities from her massive catalogue of music ft. rare Slits mixes and reggae/roots dubplates, collected from her life and expertise with this music.
This will be a true sound clash between old and new, London & Bristol, Dub Reggae & Dubstep, representing musical unity and solidarity spanning generations.
Viso<>Nero Biography
Viso<>Nero are an up and coming live electronics & DJ duo from the city of Bristol UK, melting together a hybrid mix of Dubstep, Downtempo, Breaks and Bass culture influences.
2011 has been quite a year for Viso<>Nero. They released their dark and atmospheric Interstellar E.P on Inner City Grit Records in April, and then were whisked off on tour to The Netherlands with fellow Bristolian glitch wizard Zoon Van Snook, (Mush Records, Solid Steel). They went on to gain airplay on BBC and were invited to perform live sessions for Amsterdam FM and MerweRTV. July saw the duo open for The Slits, Tessa Pollitt, Adrian Sherwood (Onu Sound) Mark Stewart (The Pop Group) @ ICG's A Punky Reggae Tribute to Ari Up in Bristol UK which VN created a special 30minute tribute dub reggae set for, complete with VJ visuals & stills of the late singer. October saw VN release new single 'Magnitude' to coincide with them headlining the Inner City Grit SoundSystem night in Haarlem, Netherlands.
Viso<>Nero not only produce and create their own music, they also DJ a wide selection of sounds that influence their original creations. So if you like pounding beats, deep heavy bass, and huge Dub ambience then this is for you!
Press Quote's;
"It's obviously got a dub influence. It definitely has a Bristol vibe to it, which is great to hear" – Sam Bonham, BBC
"Stand-out songs include the brilliant 'Circling Saturn' by VisoNero, which felt oddly recognisable straight off the bat. Almost Burial-like, the mood is in-keeping with the consistently dark undertones and unpredictability." – Elizabeth Williams, Live Music Scene