Vyllanore & Airborne Kid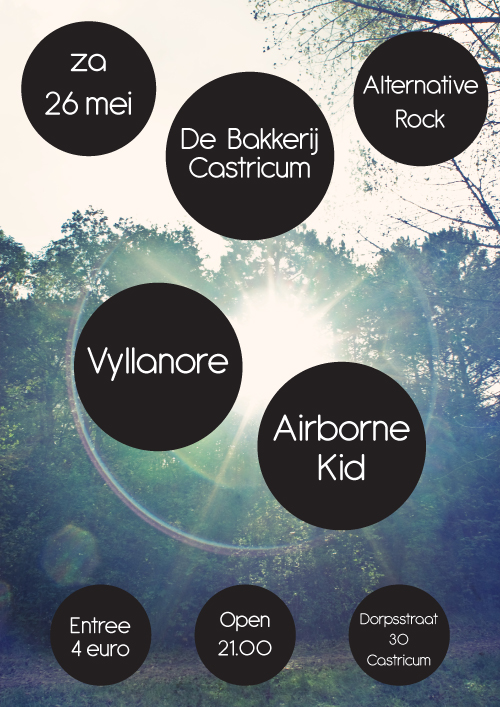 Vyllanore is an Alternative pop/rock band from Beverwijk in Holland. Their sound is very melancholy and dreamy, influenced not only by music but also by certain atmospheres, images and stories. Bands they are influenced by include Pink Floyd, Radiohead, Sigur Rós and Elbow, but they believe that every genre of music has something to offer.
After years of experimenting Vyllanore's finally ready to hit the stages. Winners at the ijmond popprijs, they have already impressed local audiences with their first shows. You really want to experience this music.
http://vyllanore.blogspot.com/
Airborne Kid is the result of several other projects and laid it's roots in Noord-Holland (Holland). The band plays along the boundaries of alternative rock music and uses a wide range of other genres to communicate the band's musical essence. Airborne Kid is influenced by bands like Radiohead, Tool, The Mars Volta, King Crimson, Porcupine Tree and Jeff Buckley. Airborne Kid consists of: Peter Hart (leadvocals & guitar), Aaron Koert (leadguitar), Thomas Cochrane (bass) and Kay Ketting (drums & backingvocals). At the moment, the band is working on new songs and the release of their first EP.
Dj's Bengel & guest
Damage: 4 euro
open: 21.00- 02.30
https://www.facebook.com/profile.php?id=100002120637627